BRANCH LAB

Behavioral Research in Aging, Neuroscience, Cognition, and Health
The mission of our lab is to promote health in midlife and older age. Our research projects include studies of the bio-behavioral risk factors for cognitive decline and Alzheimer's Disease, the benefits of physical activity for healthy aging, and women's healthy aging.
Doctoral students present research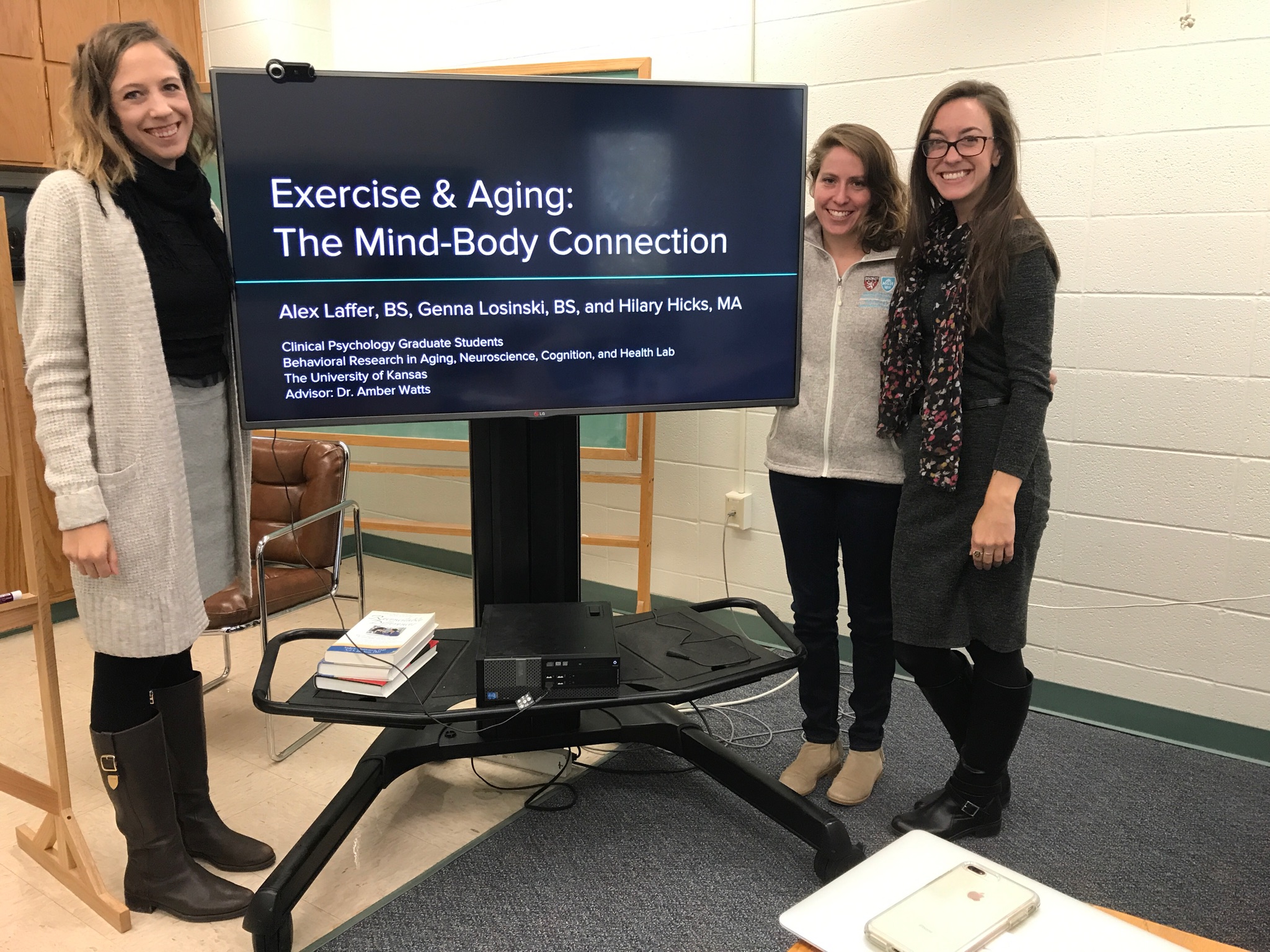 CURRENT PROJECTS
Physical Activity and Aging
Lifestyle Empowerment for Alzheimer's Prevention (LEAP! Rx) is a community-based intervention that links physicians, patients, and local YMCAs to empower older adults to make healthy lifestyle changes. 
The Physical Activity and Sleep Study (PASS) measures physical activity, sitting, and sleep with electronic monitors in everyday life in older adults with and without Alzheimer's disease.
Genetic Influences on Cognitive Aging
Several of our projects investigate the influence of genetic markers (such as BDNF, TOMM40, and Haplogroup J) on longitudinal changes in older adult cognition.
Women and Aging
Women in Midlife- Several of our projects investigate the experiences of women in midlife including menopause health care experiences, changes in midlife sexuality, and availability of educational resources for women in midlife. Find our quarterly Women's Midlife Adventure Newsletter at the link below.
Women and Alzheimer's Disease - We investigate ageing-related risk factors for Alzheimer's disease that disproportionately affect women. We are currently building a cohort of middle-aged participants to study sex differences in midlife risk factors for Alzheimer's.